The 1930s were an unusual period of history. The happiness that followed the end of the Great War came to an abrupt stop in October 1929. The Wall Street Crash culminated in The Great Depression and widespread fear over economics and finance. This ultimately led to the rise in favour of strict right-wing politics and, arguably, the Second World War.
Due to insufficient funds during this time, there was great anxiety surrounding material goods. This impacted the style choices of the era. However, much like during wartime, people often used weddings to show confidence for the future. Couples often spent a lot of money on their big day, and modern Art Deco led to elegance.
If you are interested in this type of article, check out our series which also includes the '40s, '50s, '60s and '70s.
Style of the 1930s
Although 1930 maintained some of the light-hearted styles of the previous decade, by 1931 fashions became more conservative again. Meanwhile, prices dropped to encourage women to continue to buy clothes. Patterns became popular and growing numbers of women started to make their own garments.
Expensive natural materials went out of fashion, as cheaper man-made fibres became more readily available, such as rayon and nylon. As more women joined the workforce, the need for more comfortable clothing grew, and zippers came into existence.
Moreover, the hips were no longer the focal point of women's bodies, but shoulders and waists instead. This structural change in the way women's clothes were cut was influenced by Jeanne Lanvin, a popular designer. Elsa Schiaparelli helped to turn the soft look of the 1920s harder, while Norman Hartnell specialised in pretty, flowy dresses.
Furthermore, the 1930s also saw the emergence of genteel day wear. Because women started having more productive and busier lives, day dresses slowly became shorter for ease of movement. In turn, evening wear became more extravagant and glamorous. Moreover, wedding dresses very much followed the same trend!
Jill Esmond, 1930
In 1930, actress Jill Esmond married famed actor Laurence Olivier. They met on the production for Bird in the Hand and, three weeks later, Olivier proposed. She turned him down multiple times over the next two years and he even followed her to New York. When they did finally marry, in July 1930, they regretted it almost immediately.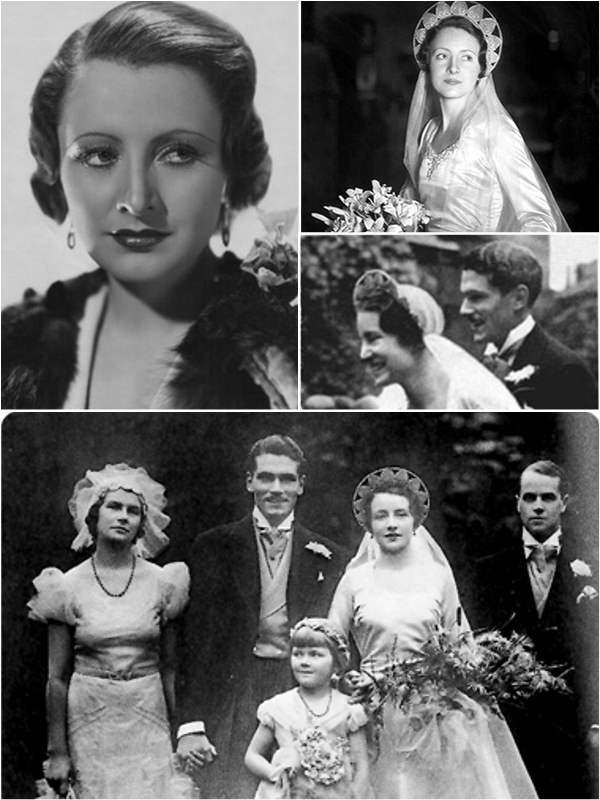 To their wedding, she wore a romantic white gown made from parchment satin. The dress featured a delicately embellished sweetheart neckline, ruched sleeves and waistline that emphasised her petite frame. She paired the understated dress with a glamorous large halo crown and long veil.
Nancy Beaton, 1933
The sister of famed photographer and stage designer Cecil Beaton was always going to look stunning in her dress. She married Grenadier Guards Officer Sir Hugh Smiley at St Margaret's Church in Westminster. Not one to shy away from spectacle, Cecil arranged the whole event. In fact, he even designed her dress!
With the focus of someone blocking moves for the theatre, Beaton set the movements for the wedding day. And, it paid off. Photographs show Nancy resplendent in the snow-white gown and floor-length veil. A young pageboy and eight bridesmaids, who were linked by a garland of flowers, followed her. Each bridesmaid also wore a short veil and walked in formation behind the blushing bride.
After, brides-to-be across the nation looked on and took inspiration from her wedding day. If she could wear a beautiful dress with a lace overlay, so could they.
Marjorie Hume, 1933
British actress Marjorie Hume chose a simple gown at her wedding to Eric Lindsey in December 1933. The gown was created from fine soft flowing fabric. The dress was modest yet also had a slight sex appeal with the deep cowl neckline.
Cowl necklines became popular during the 1930s so Marjorie was clearly in vogue at the time. The style was thought to have been inspired by Ancient Greek costume. Marjorie wore the dress elegantly alongside a beautiful capped veil and a large statement bouquet of traditional roses and foliage.
Ginger Rogers, 1934
The celebrated dancer married long-time love Lew Ayres in November 1934. Ginger was committed to her acting career, and Lew had previously repeated that he would never marry an actress. However, after visiting him on his set for Lottery Lover, the Iron Man actor finally popped the question.
They enjoyed a laidback lifestyle, very different from their extravagant Hollywood peers. For their wedding, they approached fashion designer Kiviette. She was a highly successful designer of outfits for both everyday and Broadway. This ability to design for either, and to sometimes mix the styles, earned her a good reputation.
The dress she designed for Ginger Rogers she named "Green Lace". It was made of Chantilly lace in a pale green colour. On the wedding day, Ginger wore the dress with a matching hat and a bright smile.
Wallis Simpson, 1937
The scandalous marriage of Wallis Simpson and the Duke of Windsor in 1937 changed the course of royal history. The scandal at the time was due to Wallis already being a twice-divorced woman and being untitled. However, when we look at Prince Harry and Meghan Markle, another formerly divorced American with no title, we see how much opinions have changed as this is no longer scandalous. Moreover, the Duke of Windsor and Wallis were outcast from the royal family, while Harry and Meghan remain popular.
While in societal exile from England, the pair married in France on 3rd June 1937. She wore a simple, floor-length gown which featured a tight bodice and a neat row of buttons. This emphasised her small frame but also lengthened her body for her to appear tall and elegant.
The ensemble was created by Parisian designer Mainbocher, who developed a shade of blue based entirely around Simpson's eyes. This "Wallis blue" was the colour of the gown, as it was deemed inappropriate for second-time brides to wear white! In addition, Wallis paired the dress with matching colour silk crepe gloves and a halo-effect straw hat and flowing blue tulle.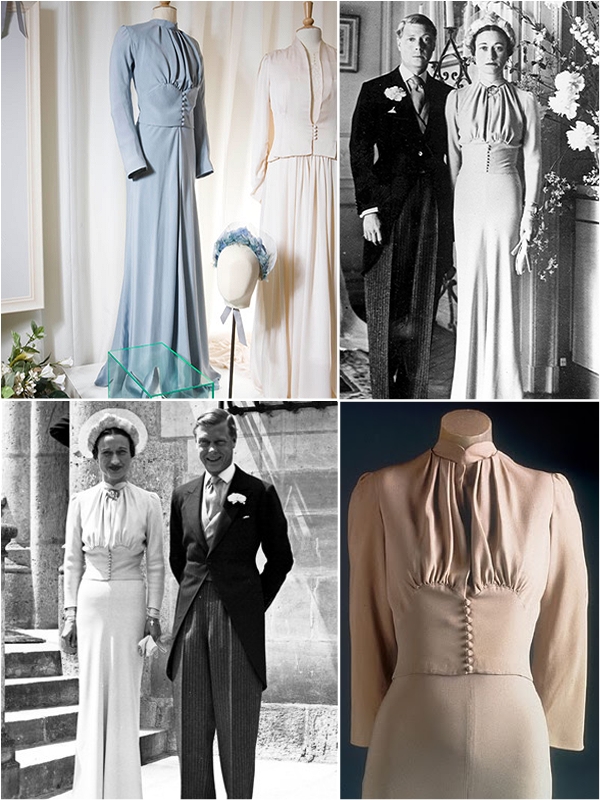 What is your favourite iconic wedding dress of the '30s? Let us know in the comments below!