Iconic wedding dresses of the '30s
1930's Context:
The 1930's was an era of both austerity and uncertainty, the Wall Street Crash in 1929 culminated in the Great Depression which generated widespread fear over economics and finance. This arguably led to the rise in favour for strict right wing politics and ultimately the Second World War.
Also due to the great depression and insufficient funds, there culminated an anxiety surrounding material goods, thus impacting the style choices in this era. However, despite this pervading doom and gloom there was the continued aesthetic of Art Deco elegance.
Style of the 1930's:
During the 1930's women's style retained the sleekness of the former century yet there became an increased emphasis on the feminine curvature of a women's body. This structural change in the way women's clothes were cut was influenced by Jeanne Lanvin, a popular designer that still heralds it cult status of luxury womenswear today. Furthermore, the 1930's also saw the emergence of genteel day wear.
This is because women started having more productive and busier lives, day dresses became more flowy and shorter to create ease of movement. Which in turn made evening wear become more extravagant and glamorous thus relished.
Jill Esmond Moore, 1930
In 1933, actress Jill Esmond Moore wore a romantic white gown made from parchment satin. The dress featured a delicately embellished sweetheart neckline, rusched sleeves and waist that emphasised her petite frame. She paired the understated dress with a glamorous large halo crown and long veil.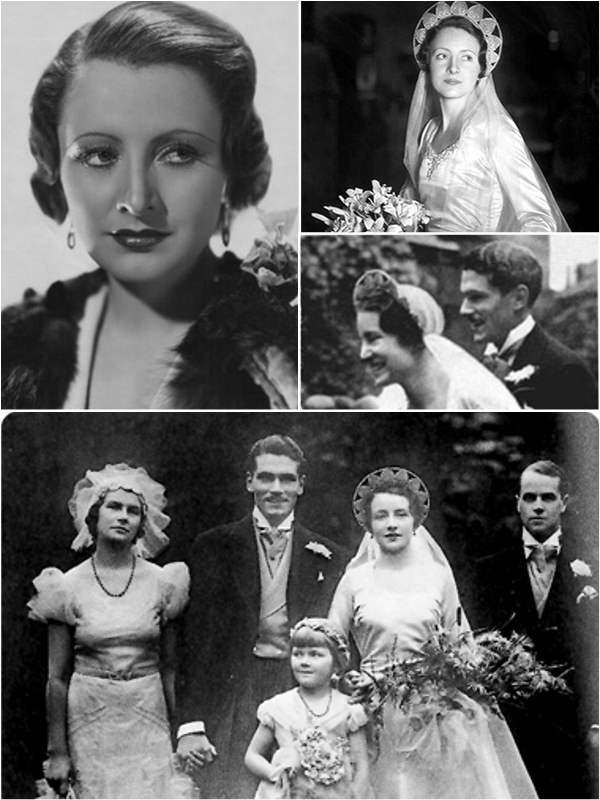 Wallis Simpson, 1937
The scandalous marriage of Wallis Simpson and the Duke of Windsor in 1937 has changed the course of royal history.  Yet her wedding dress was certainly untraditional in colour. The simple, floor-length gown featured a tight bodice and a neat row of buttons emphasising her small frame but also lengthening her body for her to appear tall and elegant.
The ensemble was created by a Parisian designer named Mainbocher, who developed a shade of blue based entirely around Simpson's eyes. Wallis's gown was this same shade, as in the '30s it was deemed inappropriate for second-time brides to wear white!
The scandal at the time was due to Wallis already being a divorced woman and plus her owning no previous title. Fast forward to Prince Harry and Megan Markle, another formerly divorced American with no title, the scandal that tainted Wallis and the Duke of Windsor's lives (they were outcasted from the royal family) can certainly not be said to be the same for Harry and Megan who are incredibly popular in public opinion and in the Royal Family.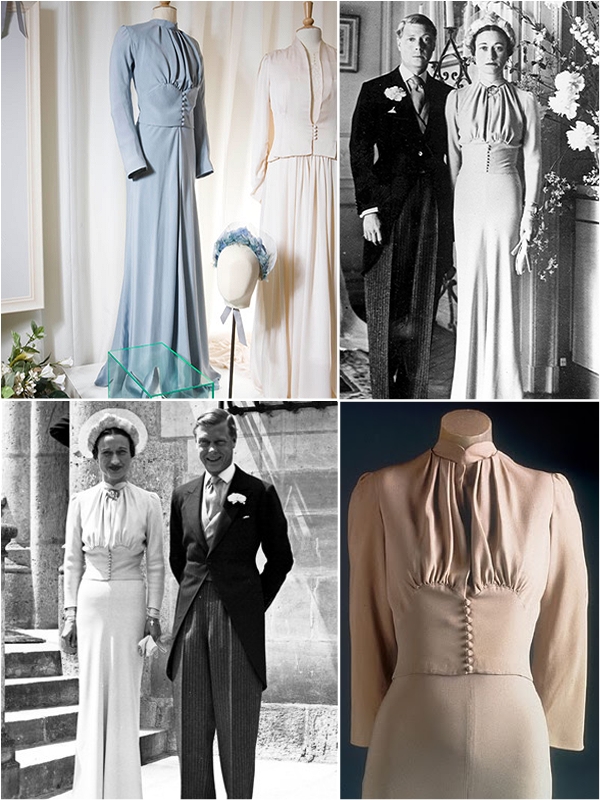 Marjorine Hume, 1933
British actress Marjorine Hume chose a similarly simple gown in 1933. The gown was created from fine soft flowing fabric. The dress was modest yet also had a slight sex appeal with the cowl neckline.
Cowl necklines are popular fashion elements today, and became popular during the 1930's so Marjorine was clearly in vogue at the time. The style was thought to have been inspired by Ancient Greek costume. Marjorine wore the dress elegantly alongside a beautiful capped veil and a large statement bouquet of traditional roses and foliage.
We hope you have enjoyed reading about 1930's wedding dresses today and learnt a little slice of fashion history! Read our other iconic wedding dress throughout history series here:
Further Reading: Iconic wedding dresses from the 20's, 40's, 50's, 60's and 70's